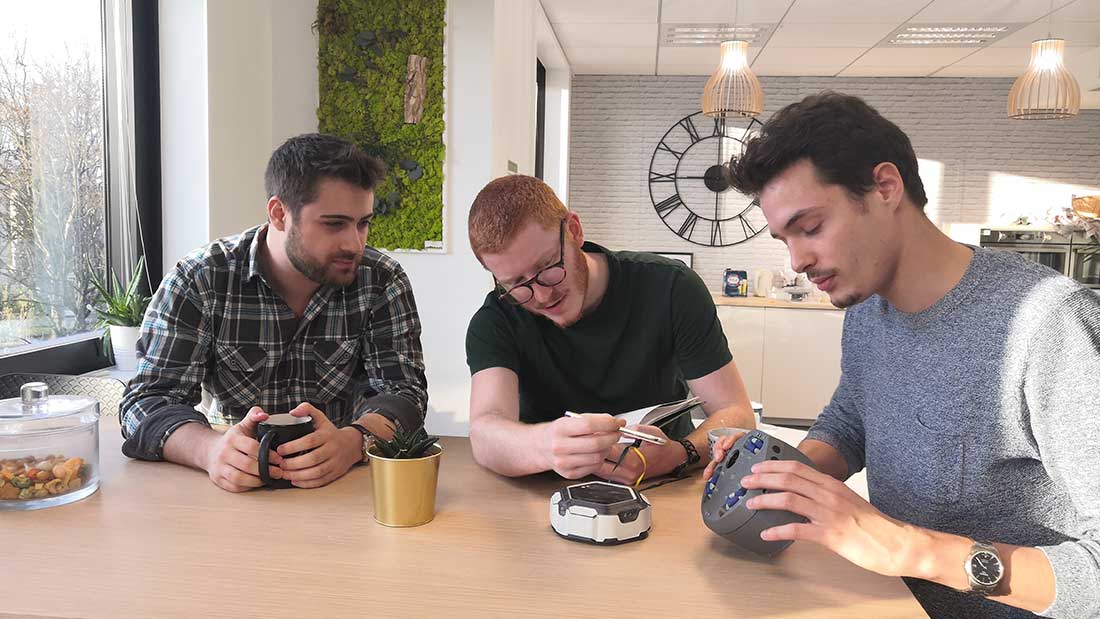 LudoTech
LudoTech's mission is to put new technologies at the service of board games and offer a new gaming experience. We met with Alexis Lemey, Mathieu Legeay and Nicolas Silvani, the three co-founders of the start-up who joined the ADVANS Lab in September 2019.
Q: Can you tell us about the origin of LudoTech?
When we were at ESIEE Paris engineering school, we wanted to create a start-up. Our shared passion for board games and robotics led us, two years ago, to create a board game console; that's when LudoTech was born. We then started working full time on the project following the partnership with the ADVANS Group in September 2019.
Q: What is your link with the ADVANS Group?
Among the three co-founders, we are two "alumni"! We (Mathieu and Nicolas) joined ELSYS Design in early 2018 for our end-of-study internship and then worked for a little more than a year as engineers.
Q: What do you want to accomplish?
Board game players face a number of issues around gaming experience, lack of space (storing game boxes when you live in an apartment, it's complicated) and cost. To answer this, we have created the OLEM console, which aims to renew the gaming experience and put technology at the service of players.
Q: What makes this console innovative?
The concept of OLEM is first of all to have a library inside the console, much like the Google Play Store. Any game designer or any player who wants to create a game can make it available on it.
Next, we design a robot that can move in any direction, detect obstacles, black cards, simple player movements or even table edges.
This technology will allow us to develop new gameplay.
Q: Precisely, how does this translate at the technological level?
We want to create a product that can evolve over time, which is not obsolete after three months! So we have to condense a set of technologies into a cylindrical form factor of about 10 cm in diameter and 5 cm in height. This represents great constraints on the electronic and mechanical domains.
Q: What does the partnership with the ADVANS Group bring you?
First of all, the partnership with the ADVANS Group allowed us to have our first premises at Cachan's headquarters, as well as an access to the laboratories with all the electronic equipment. We also benefit from the group's technical expertise, in electronics, mechanics and software.
Q: Did you get any first player feedback?
Yes, in festivals or game bars, but also within the ADVANS Group. For example, on March 13, we organized a test session with group engineers in the break room in Cachan. The participants were enthusiastic, we cannot wait to offer them new concepts!